Ideally, a plastic surgeon has both the aesthetic vision and surgical technique to enhance the human form in a way that appears beautiful, and at the same time very natural. Dr. Michael K. Newman possesses these qualities, and his expertise in body contouring and breast enhancement has made him one of the leading plastic surgeons in Beverly Hills and throughout Southern California.
Educated at some of the finest medical institutions in the country, Dr. Newman is recognized as one of Southern California's elite plastic surgeons. He is a member of the faculty at UCLA's David Geffen School of Medicine, and he has consistently been included in the List of Super Doctors published annually by Los Angeles Magazine. ABC's Nightline news program featured Dr. Newman's unique skills and compassionate, patient-focused care.
Featured In
Dr. Newman has appeared in many top beauty and fitness magazines. He has been repeatedly recognized as a premier plastic surgeon in national and local publications.
In The Media
The surgeon'S surgeon, the patients' choice
Dr. Newman is highly regarded among his fellow surgeons and colleagues in the field. He is recommended to patients by other doctors and has been featured several times in Los Angeles Magazine's annual "Best of L.A." issue on the list of physicians selected as "Super Doctors." Dr. Newman is also compassionate and personable with a bedside manner that patients appreciate from their initial consultation through their final follow-up appointment. He has received numerous awards including the Patients' Choice Award and the Compassionate Doctors Award, demonstrating his commitment to patient care. 
His expertise is recognized nationally as well, and Dr. Newman has been consulted as an authority on plastic surgery by various media outlets. He was featured on the program "Nightline" discussing an innovative surgical technique for breast reconstruction. In addition, he is a featured columnist on plastic surgery for the health and beauty magazine New You.
Outstanding Credentials
Dr. Newman earned his medical degree from the University of North Carolina at Chapel Hill after completing undergraduate studies at UCLA. He followed this with a comprehensive 6-year residency in general and plastic surgery at the Medical College of Virginia (Virginia Commonwealth University).
Dr. Newman then completed a highly sought-after fellowship under Dr. Scott Spear and Dr. Maurice Nahabedian, internationally acclaimed cosmetic and reconstructive breast surgeons at Georgetown University. The Georgetown fellowship included advanced training in complex breast surgery as well as cosmetic surgery of the breast and body.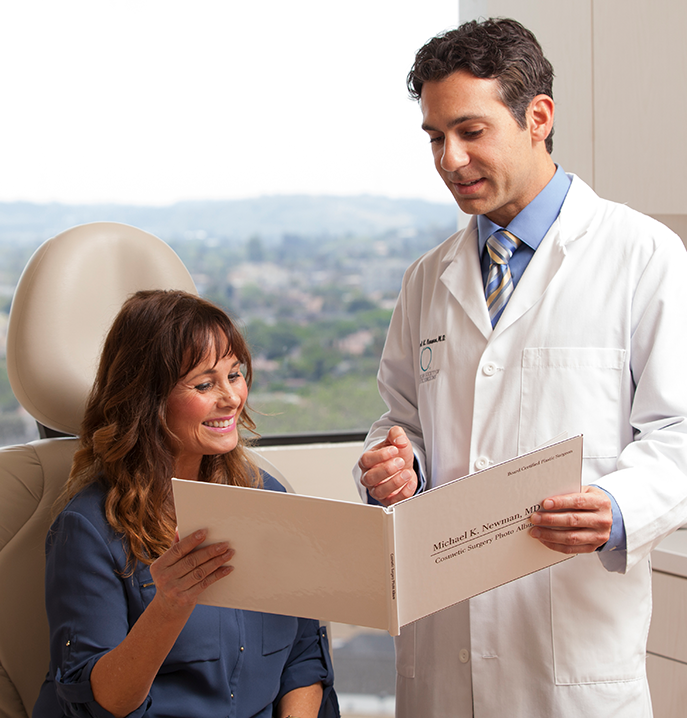 Giving back
As an assistant clinical professor at the UCLA David Geffen School of Medicine's Division of Plastic Surgery, Dr. Newman is helping train the next generation of plastic surgeons. Dr. Newman's involvement at the medical school benefits his patients, as he remains at the forefront of plastic surgery advances through his involvement with several clinical research trials.
Dr. Newman is actively involved in several charity organizations to help cancer patients. Specifically, he is on the Board of Directors for Eveyln's Breast Friends Forever and he is on the Advisory Board for Rhonda's Kiss. Both organizations actively help support cancer patients and their families emotionally and financially through charitable donations, events, and awareness.